New 14-inch and 16-inch MacBook Pros Answer Customer Desires
Apple's professional MacBook Pro has been a workhorse of the Mac lineup for years, offering high-end performance in a portable package. Since 2016, however, customers have expressed irritation at Apple's removal of ports other than Thunderbolt 3, the loss of MagSafe magnetic charging and the Touch Bar replacing traditional F-keys. Here's how the new MacBook Pros respond to those concerns.
Ports
Previously, the MacBook Pro had just four Thunderbolt 3 ports, forcing users to carry dongles to connect to legacy devices. The new models still lack USB-A ports but supplement three Thunderbolt 4 ports with an HDMI port for video, an SDXC card slot for camera media and a headphone jack.

MagSafe
Although you can charge using the Thunderbolt 4 ports, most people will rely on the dedicated MagSafe 3 charging port. The MacBook Pros (apart from the low-end 14-inch model) include powerful chargers and a USB-C to MagSafe 3 charging cable capable of fast-charging the devices. They should also provide longer battery life than previous models.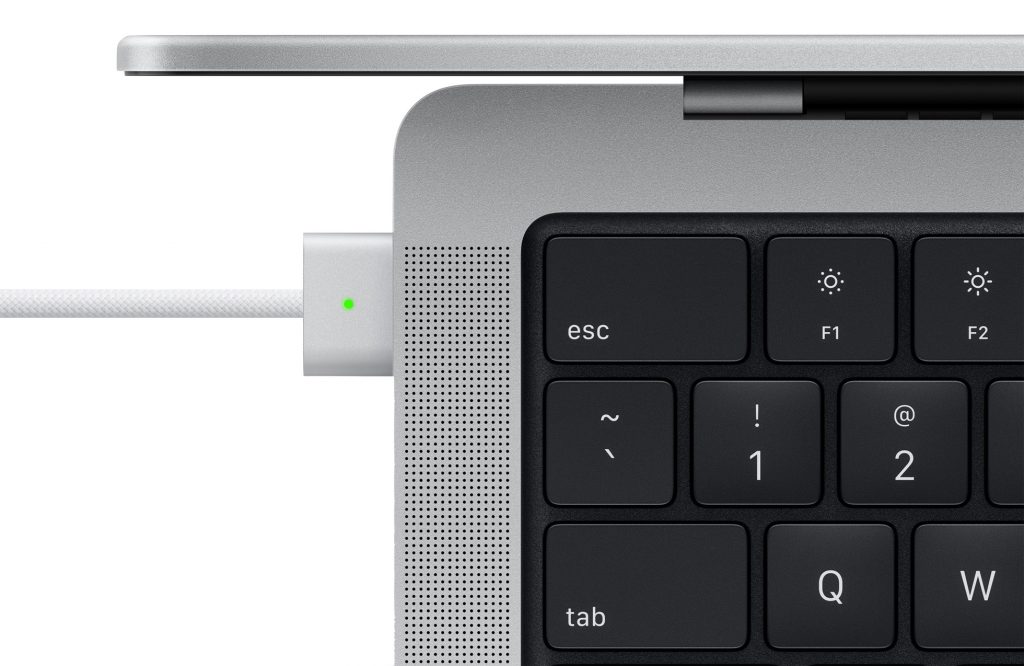 Although Apple did equip the 13-inch MacBook Pro with an M1 chip in November 2020, it wasn't notably faster than the cheaper but largely comparable M1-based MacBook Air. We suspect no one will be complaining about the performance of the new 14-inch and 16-inch models thanks to the addition of Apple's just-released M1 Pro and M1 Max chips.
F-keys with Touch ID
The Touch Bar hasn't been a success, never migrating to any other Mac models and eliciting tepid support from developers. With these new MacBook Pros, Apple reversed course, replacing the Touch Bar with traditional F-keys. A Touch ID sensor is still available for authentication at the top-right corner of the keyboard.
M1: For reference, last year's M1 chip—widely acclaimed for providing excellent performance—offers an 8-core CPU with four performance and four efficiency cores, a 7-core or 8-core GPU, and either 8 GB or 16 GB of unified memory.
M1 Pro: The M1 Pro offers up to 1.7 times the performance of the M1 thanks to a 10-core CPU that has eight performance and two efficiency cores. Plus, its 16-core GPU is up to twice as fast as the M1. The M1 Pro provides either 16 GB or 32 GB of unified memory, and it increases the memory bandwidth by nearly three times, up to 200 gigabytes per second (GBps). To provide lower price points for 14-inch MacBook Pro configurations, Apple offers versions of the M1 Pro with an 8-core CPU (six performance and two efficiency cores) or a 14-core GPU.
M1 Max: The M1 Max has the same 10-core CPU as the M1 Pro but provides a massive 32-core GPU with up to four times the performance of the M1. The largest chip Apple has ever made, the M1 Max offers either 32 GB or 64 GB of memory, and it doubles the M1 Pro's memory bandwidth to 400 GBps, nearly six times faster than the M1. A lower-cost M1 Max configuration has a 24-core GPU.
MacBook Pro Final Thoughts
The only other negative for the new 14-inch and 16-inch MacBook Pro models is weight. They're both about 0.4 pounds heavier than the models they replace, at 3.5 pounds for the 14-inch model and 4.7 or 4.8 pounds for the 16-inch model—the M1 Max configurations are a bit heavier.
Despite the notch and the weight, these are impressive new entries in the Mac lineup, and we anticipate they'll be well-received by users who are happy to pay more for top-of-the-line machines. The 14-inch MacBook Pro starts at $1999 and the 16-inch model at $2499. Numerous options are available, so you can choose an M1 Pro or M1 Max for either size, and pick from 16 GB, 32 GB and 64 GB unified memory configurations. When it comes to storage (which Apple says is also more than twice as fast as previous SSDs), your choices are 512 GB, 1 TB, 2 TB, 4 TB and 8 TB. The 8 TB SSD will cost you $2400.
We can't make informed recommendations about what options you should choose until users start testing their real-world workflows against the M1 Pro and M1 Max and see how much memory is really necessary. For now, let your budget be your guide, and aim for an M1 Max if you work with video. You can place orders with Apple now, but be warned that global supply chain issues may mean waiting for some configurations.
About arobasegroup
arobasegroup has been consulting with clients and advising the best use of Apple Technology since 1998. We listen to our customers and solve problems by addressing their specific, unique needs; we never rely on a one-size-fits-all solution or require them to use a specific product. arobasegroup is your advocate in all things related to information technology. Contact us to learn how we can help: info@arobasegroup.com.
Keep Up-to-Date: An Invitation
Keep on top of all the latest Apple-related news via our social media feed. When you follow us on our social media channels, you will always be up-to-date with the most relevant Apple news and have easy access to tips and useful articles relevant for Apple, iPhone, iPad and Apple Watch users. You won't want to miss these articles and suggestions. Please follow arobasegroup on LinkedIn by tapping here. Thank you!
(Featured image by Apple)