Vacation Navigation
July is a big month for traveling! Be sure you use your technology to make your trips easier!
For example, imagine you're on vacation, staying at an Airbnb and collecting tourist points in the surrounding area throughout the day. Since you'll be heading back to your Airbnb regularly but may not remember its address reliably, it's best to make it a favorite in Maps before you even leave home.
That way, you can navigate to it easily without searching repeatedly or looking for it in your Recents list. Similarly, take a few minutes to add other addresses that you know you'll need, such as the rental car dropoff spot.
In Maps on the iPhone, tap the ••• button ➊ next to an address.
Then add to Favorites ➋. T
When it's time to navigate, swipe up on the search handle ➌
Tap the favorite ➍ to get directions.
Easy!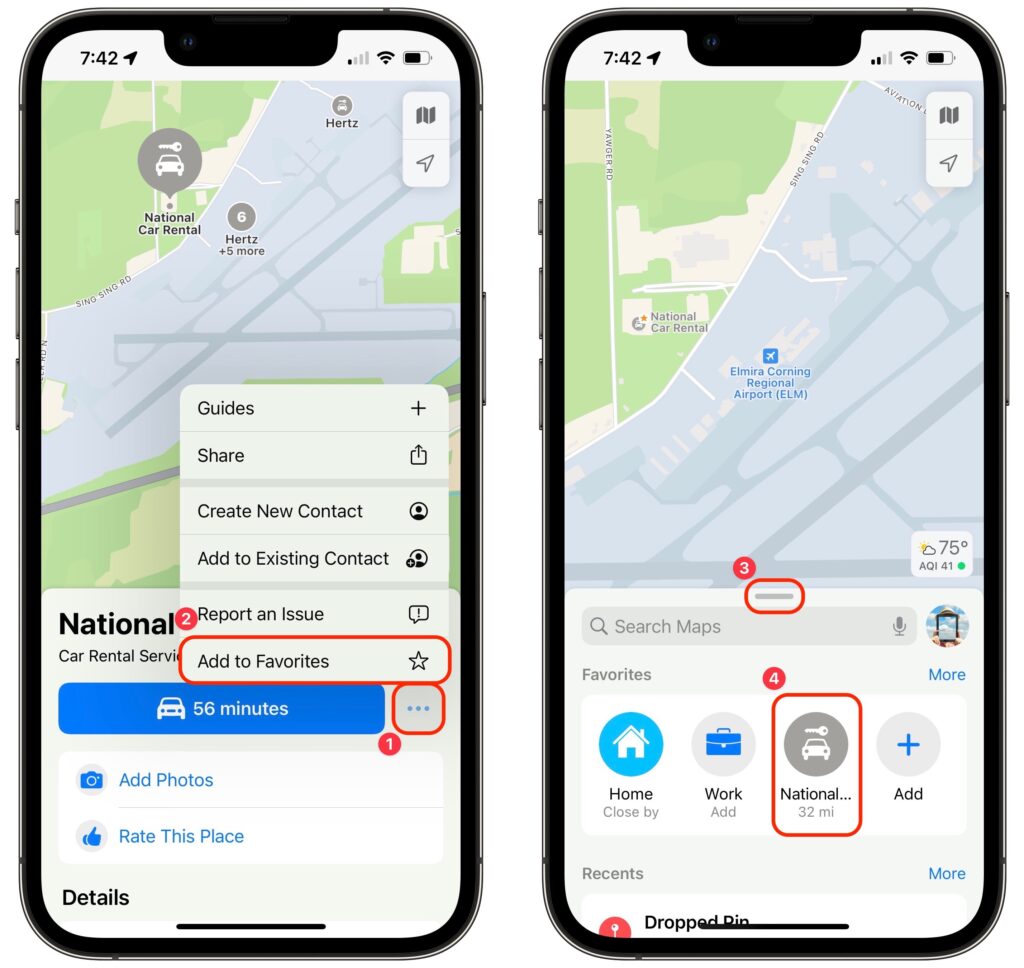 How to Back Up Your iCloud Photo Library
If you're like us, you have a lot of photos! (Can you ever have enough cat photos?) You are bound to run out of space on your iPhone at some point. Luckily, you can store your photos and videos in the cloud with Apple's iCloud Photo Library. Plus, you can view your images across all of your iPhones, iPads and Macs.
You know we're big fans of backing up data. Be sure you don't lose any precious memories. Back up your iCloud photo library to your Mac's hard drive. Learn how via this article in iMore.
About arobasegroup
arobasegroup has been consulting with clients and advising the best use of Apple Technology since 1998. We listen to our customers and solve problems by addressing their specific, unique needs; we never rely on a one-size-fits-all solution or require them to use a specific product. arobasegroup is your advocate in all things related to information technology. Contact us to learn how we can help: info@arobasegroup.com.
Keep Up-to-Date: An Invitation
Keep on top of all the latest Apple-related news via our social media feed. When you follow us on our social media channels, you will always be up-to-date with the most relevant Apple news and have easy access to tips and useful articles relevant for Apple, iPhone, iPad and Apple Watch users. You won't want to miss these articles and suggestions. Please follow arobasegroup on LinkedIn by tapping here. Thank you!