Many businesses, schools and other organizations have adopted cloud storage services like Box, Dropbox, Google Drive and Microsoft OneDrive for excellent reasons. Cloud storage provides a centralized spot for shared data without the up-front cost or maintenance issues of a network-attached storage device. It also allows individuals to access the same files on multiple devices and significantly enhances collaboration by allowing multiple people to work on the same file.
All cloud storage services provide a simple Web-based interface that's the least common denominator. The Web interfaces look and work the same for everyone, regardless of platform. Unfortunately, they're clumsier—sometimes much more so— than working with the same files in the Mac's Finder.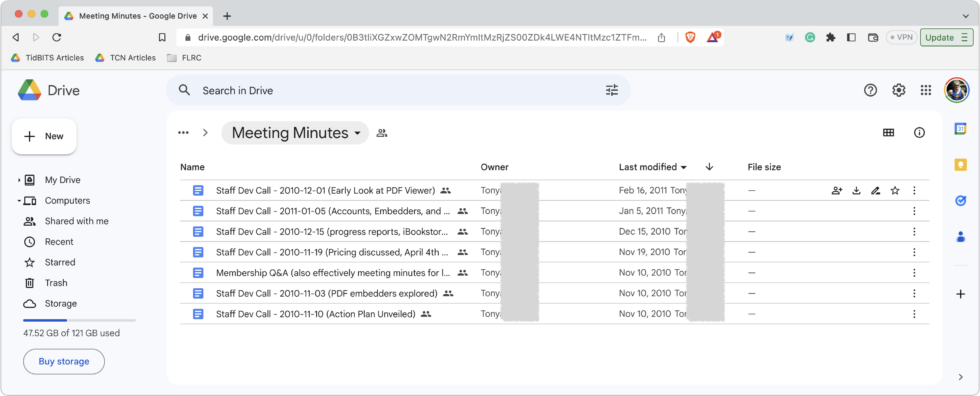 Luckily, cloud storage services also provide deep integration with the Finder. If you haven't already installed your cloud storage service's Mac app, we strongly encourage you to do so. Here are links for the big four; others will likely provide similar apps.
Once the software is installed, you'll find an item in the Locations portion of your Finder window sidebar that provides access to everything in your cloud storage, as though it were on an external hard drive connected to your Mac. You can quickly rename files, add folders, move files between folders and perform other basic Finder tasks. The services also install menu bar items you can click to access settings, activity and other controls (Dropbox shown below).
Cloud storage is not the same as an external hard drive, of course, so you need to keep certain facts in mind when using cloud-based data in the Finder. Some of this information has changed within the last few months, as cloud storage providers have migrated from Apple-deprecated custom kernel extensions to Apple's recommended File Provider extension. (The migration is still underway for Dropbox users.) Here are the most important things to know.
Data May or May Not Be Stored on Your Mac's Drive
When integrating a cloud storage service into the Finder, it's reasonable to ask where the data is actually stored. The short answer is that it's always stored online, but it might also be stored on your Mac. All cloud-based files are either online-only, at which point all you see is a placeholder icon on your Mac, or offline, which means a copy of the files exists on your Mac. Online-only files and folders have a little cloud icon next to their names in the Finder; offline files lack that icon.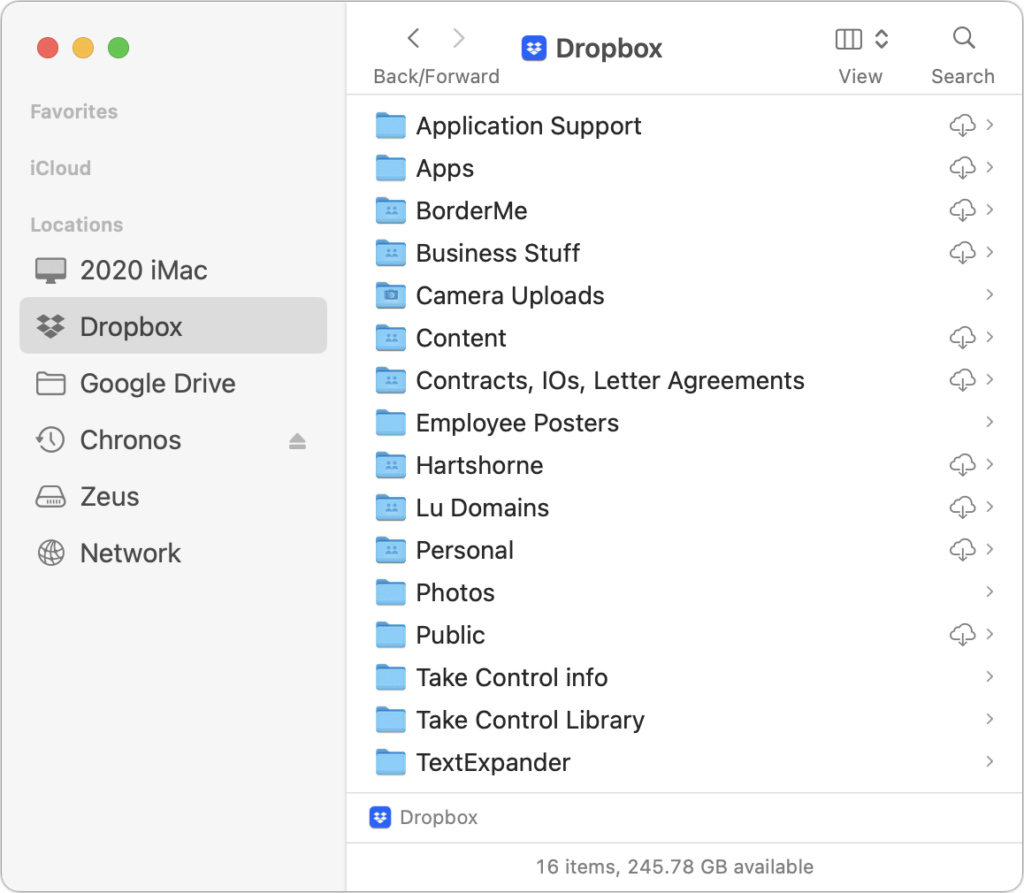 When you double-click an online-only file, the service's Mac software downloads it in the background so it can open in the appropriate app. You shouldn't notice a delay with small files, although it may become more noticeable with very large files or over slow Internet connections. And, of course, if you're on an airplane or somewhere without connectivity, you can't open online-only files at all. On the plus side, they don't take up any space on your Mac's drive until you open them.
You can control which files and folders are online-only and which are offline. Control-click the file or folder and look for commands like Download Now or Make Available Offline to bring its contents down to your Mac, or use commands like Remove Download or Make Online-Only to remove the download to save space.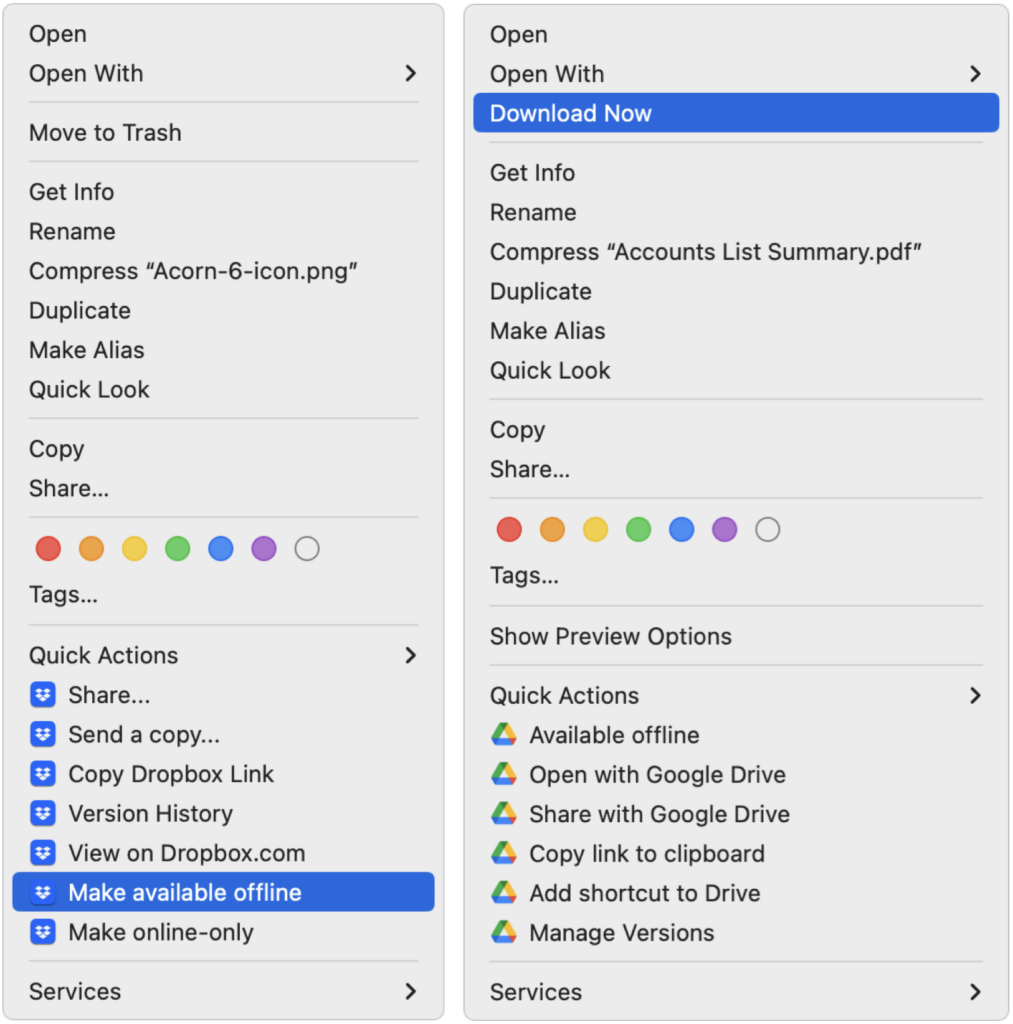 Learn More
If all of this sounds way too tech-y, we understand! Contact arobasegroup and we can help you address these and other issues, including:
Where your files reside
How OneDrive supports external drives
How to move or copy files
What items will be available online – and for how long
How to share files and paths with colleagues
How to conduct searches for online-only content
How backups work for offline content
We will ensure your data is safe and accessible.
About arobasegroup
arobasegroup has been consulting with clients and advising the best use of Apple Technology since 1998. We listen to our customers and solve problems by addressing their specific, unique needs; we never rely on a one-size-fits-all solution or require them to use a specific product. arobasegroup is your advocate in all things related to information technology. Contact us to learn how we can help: info@arobasegroup.com.
Keep Up-to-Date: An Invitation
Keep on top of all the latest Apple-related news via our social media feed. When you follow us on our social media channels, you will always be up-to-date with the most relevant Apple news and have easy access to tips and useful articles relevant for Apple, iPhone, iPad and Apple Watch users. You won't want to miss these articles and suggestions. Please follow arobasegroup on LinkedIn by tapping here. Thank you!