New Apple Watches and AirPods Pro
Did you already check out all the details about the four new iPhone 14 models Apple announced at its Far Out event last week? As promised, here is information about the three new or updated Apple Watch models, and the second-generation AirPods Pro.
Apple said that iOS 16 and watchOS 9 would be available on September 12th. iPadOS 16.1 and macOS 13 Ventura are set to arrive in October. As we've said before, wait a week or two before installing iOS 16 and watchOS 9 on essential devices to avoid any last-minute bugs. Regardless of when you upgrade, make a backup right before, in case something goes wrong and you need to erase and restore.
New Apple Watches
This year, Apple introduced not just one new Apple Watch, but three! The second-generation Apple Watch SE provides a better entry-level option, the Apple Watch Series 8 takes over as the flagship model, and the Apple Watch Ultra brings new capabilities to extreme athletes, adventurers and the rest of ​​us wannabes.
The second-generation Apple Watch SE doesn't change much from the first-generation model. It has a 30% larger screen in the same 40mm and 45mm case sizes, it boasts the same S8 chip that powers this year's Apple Watch Series 8 and it has new motion sensors that enable it to detect car crashes, just like the iPhone 14. But it still lacks the more-capable models' Always-On display, blood oxygen sensor, ECG capability and fast charging. It costs $249 for a GPS-only model or $299 for the GPS+Cellular model. The case is aluminum, and you can choose from midnight, starlight and silver colors.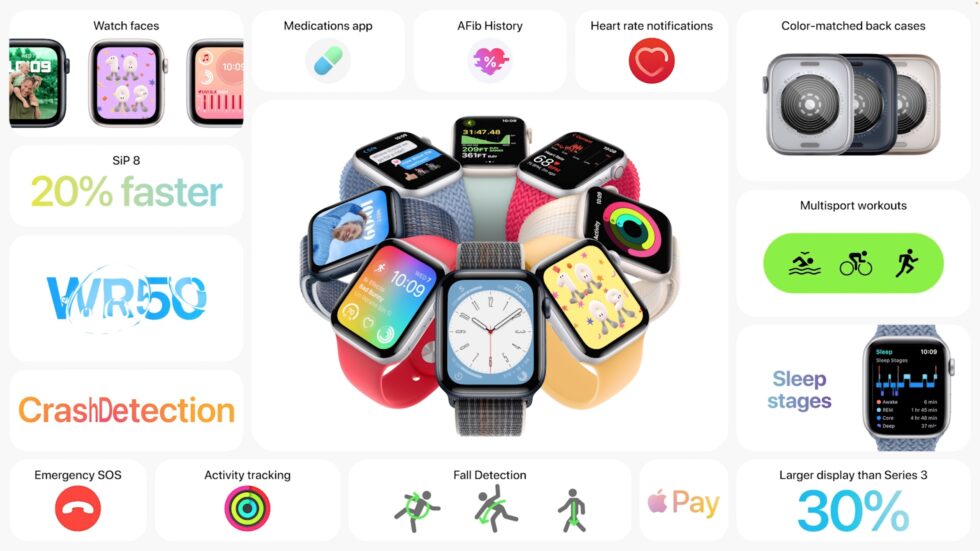 The Apple Watch Series 8 doesn't change physically from the Series 7, but it gains a temperature sensor that Apple leverages for cycle tracking capabilities. We're hoping Apple can get FDA approval to use the temperature sensor for other health-related options in the future. Wouldn't it be great if your Apple Watch could warn you that you might be getting sick? The Series 8 also gets the new motion sensors to detect car crashes, and travelers will be able to add a cellular Series 8 to an iPhone's international roaming plan—likely for an additional fee—if your carrier supports it.
The aluminum case comes in four colors—midnight, starlight, silver and Product(RED)—and starts at $399 for GPS-only and $499 for GPS+Cellular. The stainless steel case comes in silver, gold and graphite and starts at $699. These are available now!
Most interesting is the new Apple Watch Ultra. It's a completely new design with a 49mm titanium case and a flat sapphire front crystal embedded in the case to protect against side impacts. At 14.4 millimeters, it's thicker than the other two models, which are only 10.7 millimeters, so it may look a bit large on people with smaller wrists. It features a new Action button that apps can use for their own purposes, along with a larger digital crown and side button to make it easier to control with gloves. The Always-On screen is brighter than ever, making it readable in direct sunlight. The larger size also gives it better battery life, with 36 hours in normal usage and up to 60 hours with an extended battery optimization mode Apple says is still coming.
Apple beefed up other specs in the Apple Watch Ultra as well. A new dual-frequency GPS works better in conditions that can block GPS signals. It includes dual speakers and a three-mic array for better audio output and input, even in windy conditions. If you need help being found in the wilderness, it boasts an 86-decibel siren that can be heard up to 180 meters away. It's IP6X dust resistant and meets the U.S. military standard MIL-STD 810H for environmental conditions. You can even take it diving down to 100 meters, and with the Oceanic+ app coming in a few months, the Apple Watch Ultra can act as a full dive computer.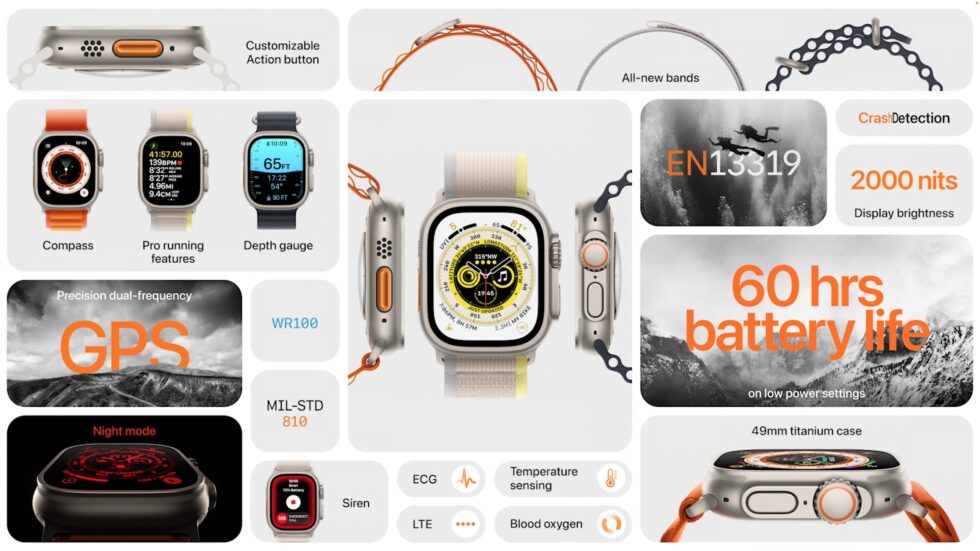 On the software side, the Apple Watch Ultra includes a new Wayfinder watch face that displays a compass and has a Night mode that switches to red on black for easier reading in the dark. A redesigned Compass app provides multiple views, a backtrack capability to retrace your steps and waypoints for easier navigation.
The Apple Watch Ultra offers a choice of three bands: Alpine (nylon with a G-hook clasp), Ocean (a stretch elastomer with extensions to fit over wetsuits) and Trail (a nylon sport loop with a tab for easier adjusting). You can order now for $799, and it will ship on September 23rd.
Second-Generation AirPods Pro Improves on Previous Generation
Finally, Apple announced the second-generation AirPods Pro. Both the earbuds and the charging case look essentially the same, with the main subtle external change being that you can now adjust the volume with light swipes up and down on the stems of the AirPods Pro. A new extra small ear tip should make the AirPods Pro fit more people's ears.
Instead, Apple focused its efforts on the internals of the AirPods Pro. A new H2 chip, coupled with a new low-distortion driver and custom amplifier, promises a better audio experience. The H2 chip also improves the Active Noise Cancellation feature, cutting out up to twice as much ambient noise, and the new Adaptive Transparency mode lets you hear what's happening around you while simultaneously reducing noise from harsh sounds in the environment. When used with iOS 16, you'll also be able to use Personalize Spatial Audio to customize what you hear based on the size and shape of your head and ears.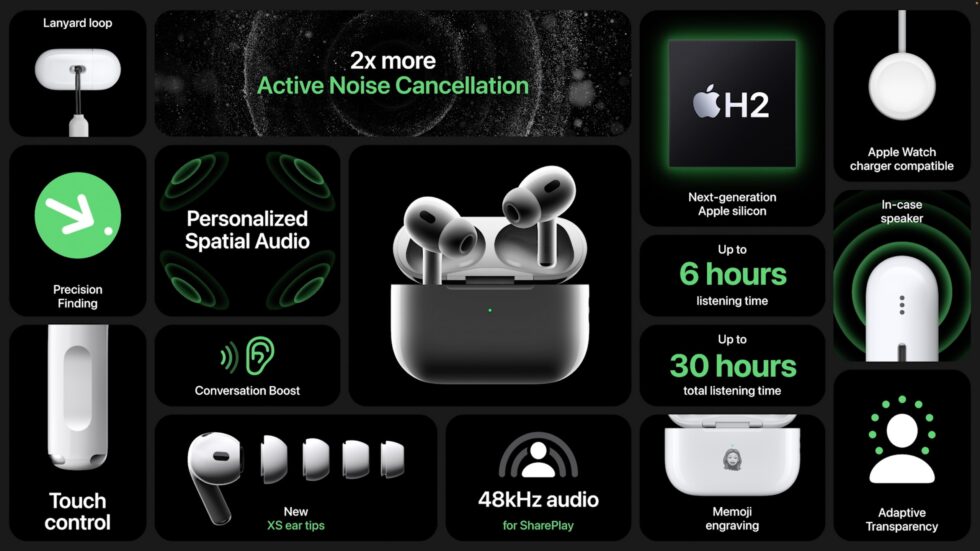 Perhaps most welcome is the additional 1.5 hours of listening time with Active Noise Cancellation that the new AirPods Pro offer. The charging case provides four additional charges for a combined total of 30 hours of listening time, 6 hours more than the previous model. You can now charge the case from an Apple Watch charger, a MagSafe charger, a Qi charger or a regular Lightning cable. The new case is sweat- and water-resistant. It includes a lanyard loop and can be found when lost more easily thanks to a built-in speaker and support for Precision Finding in the Find My app when used with a compatible iPhone.
Pricing for the second-generation AirPods Pro remains the same at $249. You can order now and they'll arrive starting September 23rd.
About arobasegroup
arobasegroup has been consulting with clients and advising the best use of Apple Technology since 1998. We listen to our customers and solve problems by addressing their specific, unique needs; we never rely on a one-size-fits-all solution or require them to use a specific product. arobasegroup is your advocate in all things related to information technology. Contact us to learn how we can help: info@arobasegroup.com.
Keep Up-to-Date: An Invitation
Keep on top of all the latest Apple-related news via our social media feed. When you follow us on our social media channels, you will always be up-to-date with the most relevant Apple news and have easy access to tips and useful articles relevant for Apple, iPhone, iPad and Apple Watch users. You won't want to miss these articles and suggestions. Please follow arobasegroup on LinkedIn by tapping here. Thank you!