Text Flight Numbers to People You're Visiting So They Can Track Your Flight
Next time you're flying to visit your Apple-using family or friends, send them your flight number using Messages when you leave. It's easy! Just text them the flight number prefixed with the airline's abbreviation, such as AA for American Airlines, AC for Air Canada, BA for British Air, DL for Delta or UA for United Airlines.
If Messages recognizes the flight number, it will underline it to indicate that tapping or clicking will bring up the current flight information. This feature also helps you extract more information from a texted flight status update that an airline sends to you. If you know a flight number but don't have it in Messages, you can get the same information on the Mac using Spotlight (press Command-Space). On an iPhone or iPad, use the Search feature (pull down on the Home screen).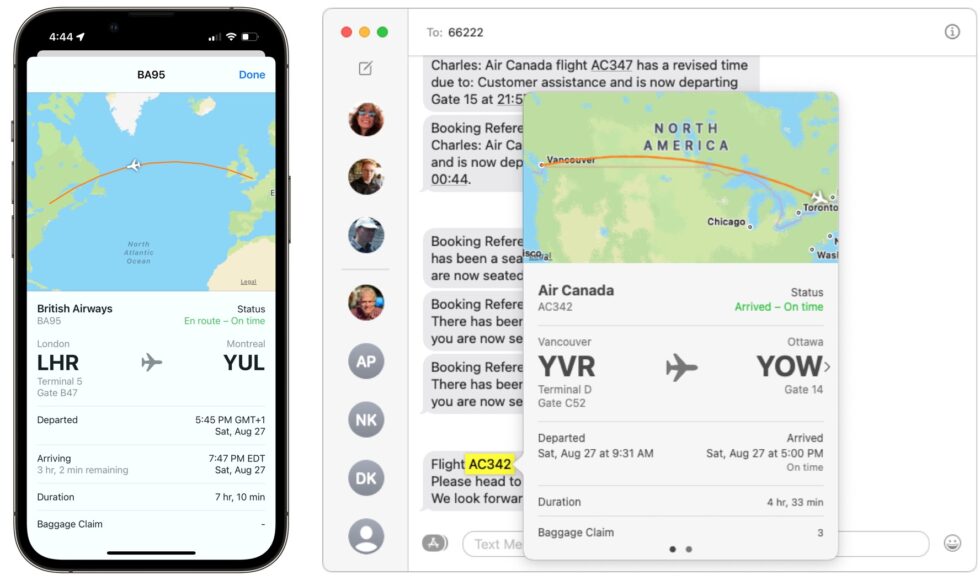 Share Airline Boarding Passes Using Wallet and AirDrop
It's common for one person in a family to handle booking airline tickets and thus to be in charge of checking in for the flight online and downloading boarding passes. If that's you, what's the best way to send each iPhone-wielding person in your family their own boarding pass?
Rather than bother with sharing the check-in confirmation email, add all the family boarding passes to Wallet on your iPhone. Then, for each person's boarding pass, tap the ••• button ➊, tap Pass Details ➋, tap the share icon in the upper-right corner ➌, and share the pass via AirDrop or any other standard method. When the person receives it, they'll be prompted to add the pass to their Wallet app. Easy!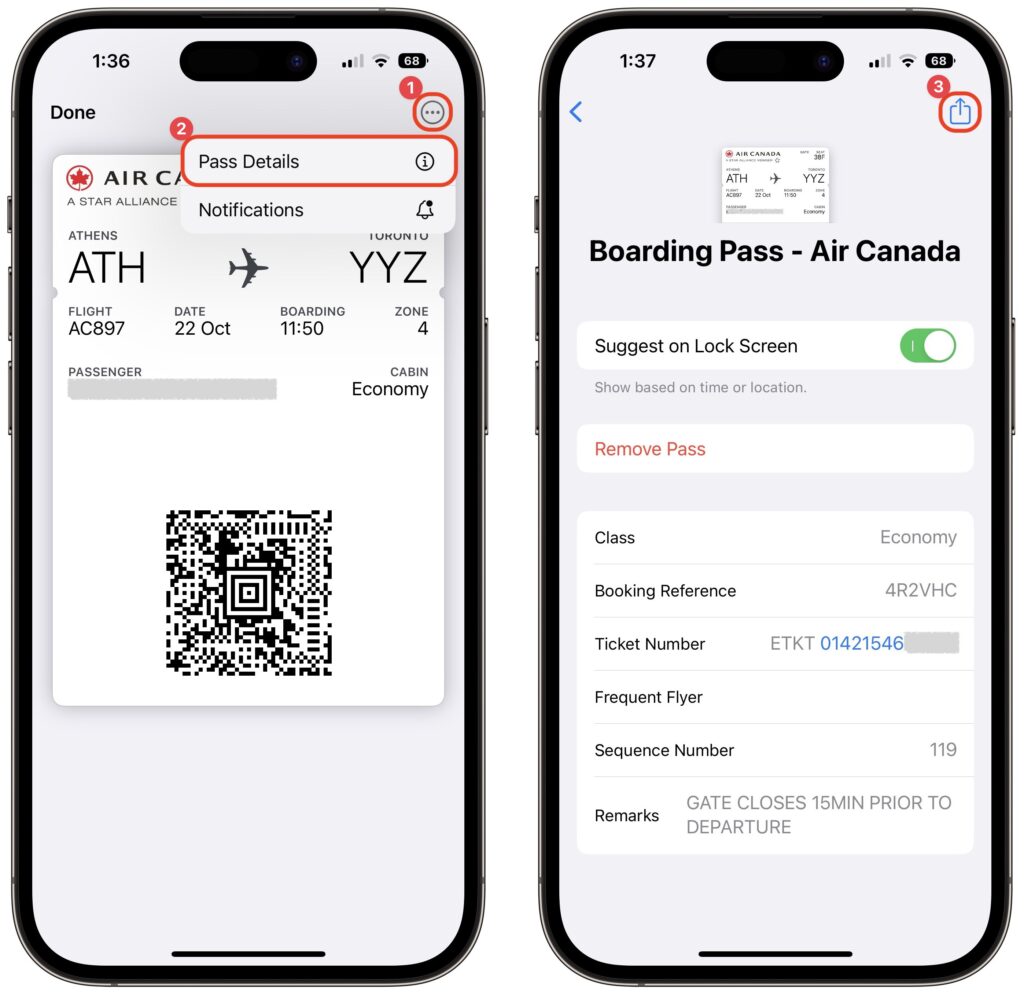 Check the Weather on Your Mac and iPad, Finally!
At long last, Apple has plugged one of the most inexplicable holes in its app library—the lack of a Weather app for the iPad and Mac. If you're traveling for the holidays, this can come in handy! In iPadOS 16 and macOS 13 Ventura, you'll now find a large-screen version of the iPhone's iOS 16 Weather app.
Locations you enter on one device automatically sync to your other devices, and the feature set is identical across the different platforms. That's especially welcome now that Apple has integrated all the features of the acquired Dark Sky service, including hyperlocal notifications of incoming weather, next-hour and 12-hour animated forecast maps (tap the map) and time-based graphs of temperature, UV index, wind, precipitation, "feels like" temperature, humidity, visibility and pressure. Plus, you'll find cards for air quality and sunrise/sunset times. You no longer need to look elsewhere on the iPad and Mac for a basic weather app!
About arobasegroup
arobasegroup has been consulting with clients and advising the best use of Apple Technology since 1998. We listen to our customers and solve problems by addressing their specific, unique needs; we never rely on a one-size-fits-all solution or require them to use a specific product. arobasegroup is your advocate in all things related to information technology. Contact us to learn how we can help: info@arobasegroup.com.
Keep Up-to-Date: An Invitation
Keep on top of all the latest Apple-related news via our social media feed. When you follow us on our social media channels, you will always be up-to-date with the most relevant Apple news and have easy access to tips and useful articles relevant for Apple, iPhone, iPad and Apple Watch users. You won't want to miss these articles and suggestions. Please follow arobasegroup on LinkedIn by tapping here. Thank you!