Apple's Find My technology is a lifesaver when it works, enabling you to locate and potentially retrieve lost or stolen devices. It's not perfect, even with the addition of the Find My Network, which drafts other nearby Apple devices to relay the location of a lost device. Part of the problem is that you have to notice that a device is missing before you can bring Find My into play to see where it might be.
Notify When Left Behind Saves the Day
No longer, thanks to the brilliant new Notify When Left Behind feature of iOS 15. Why wait until you notice that your AirPods aren't in your bag when the Find My app can notify you shortly after you leave their immediate vicinity?
Notify When Left Behind doesn't support all Apple devices. You know that you're leaving your 27-inch iMac behind whenever you leave home, and HomePods tend to stay put. But it does work with the iPhone, iPad, AirPods, AirTag and Mac laptops. Somewhat surprisingly left out is the Apple Watch, perhaps because Apple assumes it would always be either charging or on your wrist.
How to Set Up Notify When Left Behind
To set up Notify When Left Behind for your devices, follow these steps:
In the Find My app, tap Devices at the bottom of the screen to show all your devices.
Tap the name of the device for which you want to enable Notify When Left Behind.
Scroll up to reveal the Notifications section, and tap Notify When Left Behind.
Enable the Notify When Left Behind switch, then tap Done.
Repeat for each desired device, switching to the Items screen to include AirTags.
"Wait a second," you're thinking. "How can your iPhone tell you that you've left it behind if it's not with you?" Apple is one step ahead of you. The key is your Apple Watch. If you leave your iPhone on your desk at work when going home for the day, your Apple Watch will alert you 5 or 10 minutes later.
Your next thought is probably, "Won't it be annoying if my iPhone tells me that I've left various devices behind even when I meant to leave them there?" Apple has an answer to that as well. As you can see in the Notify When Left Behind screen above, there's a Notify Me, Except At section to which you can add places that it's acceptable to leave your devices. Find My even suggests your Home location. Just tap the + button to add it. If you tap New Location, you can scroll the map to any location, press and hold to drop a pin. You can then choose a small (300 feet), medium (800 feet) or large (1400 feet) radius to ignore. When you add a custom location, Find My asks if it should apply to just the current device or to all your devices and items.
When you actually leave a device behind, you'll get a notification on your iPhone. Tap it to see where you left the item, which may be all the reminder you need. If you tap Continue to open the Find My app, you can tap Directions to be directed to where the device is or tap Don't Notify Me Here if the location is a place where you don't mind leaving your devices.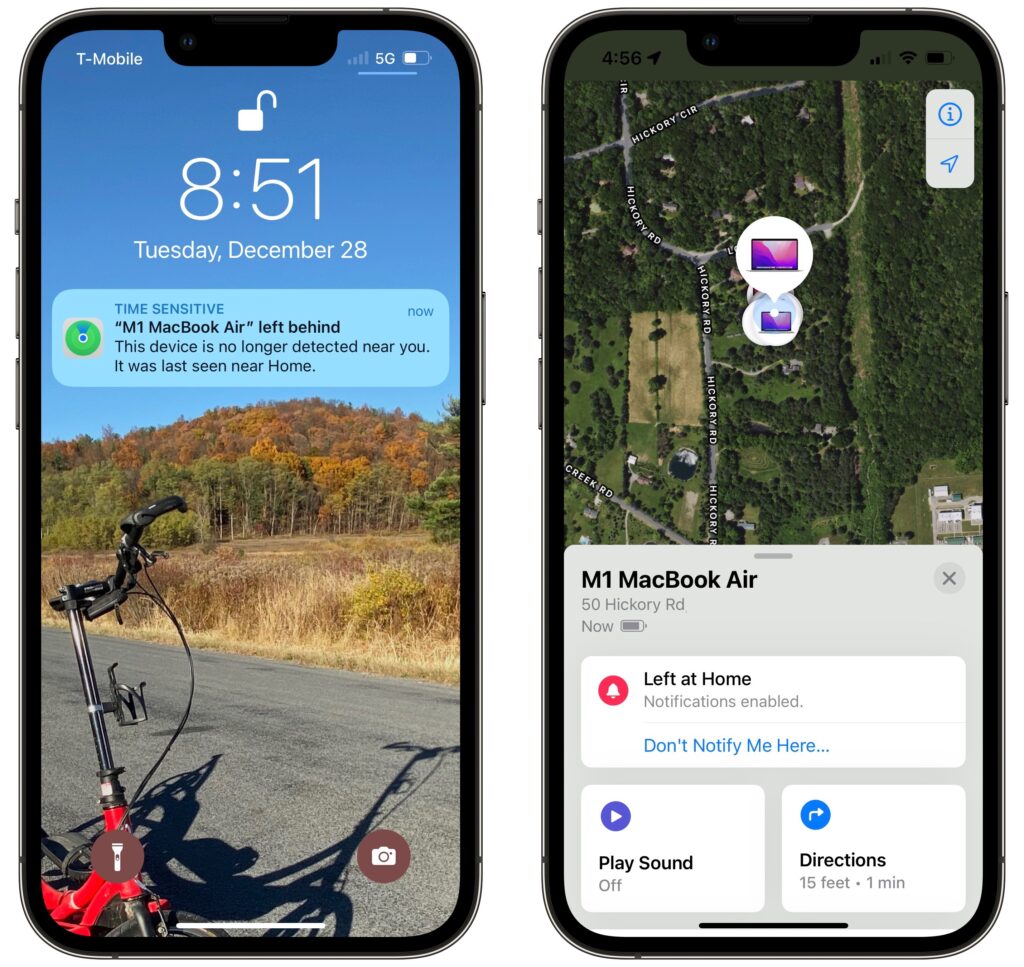 That's all there is to Notify When Left Behind. It's the perfect example of a feature that works quietly in the background to help you avoid problems.
About arobasegroup
arobasegroup has been consulting with clients and advising the best use of Apple Technology since 1998. We listen to our customers and solve problems by addressing their specific, unique needs; we never rely on a one-size-fits-all solution or require them to use a specific product. arobasegroup is your advocate in all things related to information technology. Contact us to learn how we can help: info@arobasegroup.com.
Keep Up-to-Date: An Invitation
Keep on top of all the latest Apple-related news via our social media feed. When you follow us on our social media channels, you will always be up-to-date with the most relevant Apple news and have easy access to tips and useful articles relevant for Apple, iPhone, iPad and Apple Watch users. You won't want to miss these articles and suggestions. Please follow arobasegroup on LinkedIn by tapping here. Thank you!
(Featured image by iStock.com/Farknot_Architect)